The Marysville Advocate
The Marysville Advocate will host a Business After Hours at 5 p.m. Sept. 23 in the Koester Block's Gazebo Park. This will follow an afternoon come-and-go reception to honor the 50 years that reporter JoAnn Shum has been with the Advocate. Please join the Advocate staff for both events! Earlier that day, the newspaper's staff will host the 49th annual Pony Express Cookbook recipe contest luncheon. We have a panel of local judges ready to taste test dishes made by the fantastic cooks and bakers of Marshall County. This year's cookbook will be designed with a holiday theme — with entries in traditional categories of Main Dish, Vegetables, Salads and Desserts as well as a new Christmas Sweets category. Deadline to enter is this Friday, Sept. 10, at jshum@marysvilleonline.net.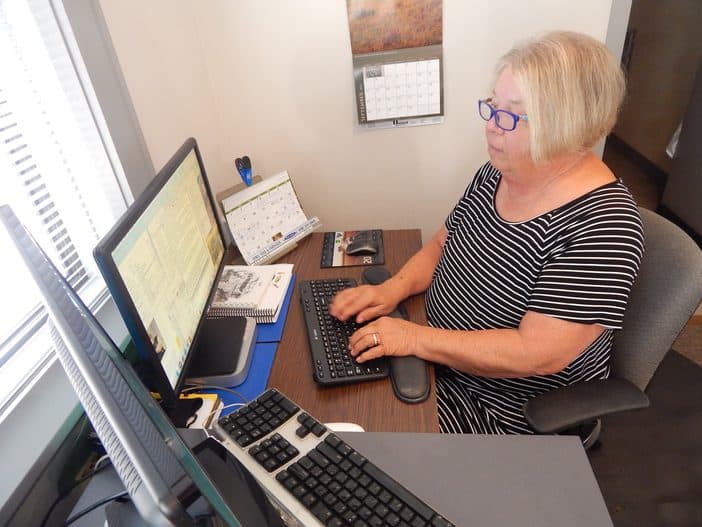 Sept. 23 will be a day to celebrate community journalism. Much has changed in the newspaper world since JoAnn started in 1971 and much continues to change. When she walked in the Advocate's door as a recent grad of Kansas State University, the newspaper's copy and ads were all handed to a typesetter who worked on a very large, clackety typing machine known as the Linotype. That machine is now in the museum at the historic courthouse. Today the Advocate is produced almost entirely on a digital system until it's printed onto metal plates and placed on an off-set press that runs 3,000 copies at the printing plant in St. Joseph, Mo. JoAnn recalls in her early days as a cub reporter "all the staff, except the editor and printers, worked in the front office." Her first assignment was to write up wedding, engagement and anniversary events, extensively detailed society reports that were the talk of the town. She's branched into a role as society editor, covering features and news stories ranging from county fairs to interviews with residents about their homes, families, businesses and many other memorable events. "No two days are ever alike in a newspaper office," JoAnn said. "There is always something new to write about and take photos of. The job provided the opportunity to live in my hometown surrounded by family and friends. If something was going on in Marysville or the surrounding community, I was always there." The best part of working for a weekly, she says, is having the time to do research for articles and check details. "Technology is the biggest game changer in the newspaper industry, especially in photography," JoAnn said. "I used to spend at least a day developing and printing black-and-white photos by hand in the darkroom. Taking photos with digital cameras and cell phone cameras has advanced the process immensely. The sharpness and color of photos now is amazing." Please join the Advocate on Sept. 23 to hear more of JoAnn's memories (some quite funny) and celebrate her dedication through five decades of covering Marshall County.